101 Eight Letter Words
Every Scrabble Player Should Know!
Not many Scrabble players realize just how important eight letter words are in the game. This is probably because each player has seven letters on their rack, and so they think of a bonus as one where they use up all seven of their letters.
This is true, of course, but if you weave those seven letters around an existing letter on the board, then your bingo is an eight letter word. Even less well-known, is the fact that eight letter bonus plays are actually playable more frequently than sevens! In fact, they turn up about 30% more often.
So if you agree that it's important to learn the high probability seven letter words, then you'll agree that it's even more important to master the most frequently occurring eight letter words in Scrabble. And that's what I've put together here for you...
Which Dictionary Have I Used?
All the words you see in this list can be found in Collins Official Scrabble Dictionary, which is the official Scrabble dictionary endorsed by the World English Scrabble Players Association (WESPA). This is not, however, the official dictionary used in North American Scrabble — here you use the Official Scrabble Players Dictionary.
To help accommodate all players I have color-coded the words appearing with their definitions down below this word list. Words colored blue, are not accepted in North American Scrabble. The other words are playable everywhere. I hope that isn't too confusing.
Oops! There I go again. Rambling on about conventions and whatnots, while you're yelling 'Less TALK, more WORDS!!'. Ok, ok, here they are now...
Top Eight Letter Words (1-50)
Now you'll probably notice that my list is not in alphabetical order. That's because I've put the words in order of probability, with the most likely words appearing first. And since words made up of the same set of letters have exactly the same probability of being drawn from the tile bag, this also means that anagrams, like GRATINEE and INTERAGE, appear together in the list.


And, once you've mastered those, here is the next installment...
Update!
Since creating this page several years ago, the official Scrabble word list has changed, and the lists you see here are not 100% correct.
The good news is, I've now created a completely up-to-date list, not only of the top 100 eight letter words, but of the top 500 eight letter words! I've formatted them all in a really easy-to-study way that readers are loving.
Just click the picture below and get the eBook as a downloadable pdf...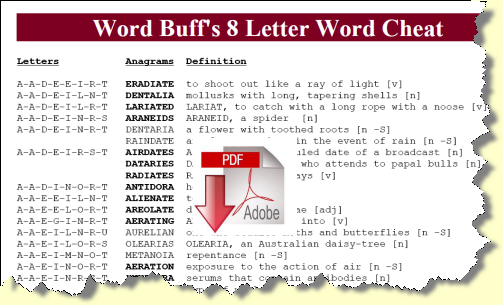 Top Eight Letter Words (51-101)
What do all these eight letter words mean?
Finally, just in case you were wondering whether any of these weird looking eight letter words are genuine, here is a brief definition for every eight letter word appearing on this page.
Also, as I promised at the start, I've highlighted in BLUE the words that are not valid Scrabble words in North America.
In other words, if you're from North America, DO NOT play the blue words - the others are fine. Everybody else, learn and play all of them ;-)
ACTIONER

a film with a lot of action [n -S]

AERATION

exposure to the action of air [n -S]

AEROLITE

a meteorite [n -S]

AILERONS

AILERON, a balancing flap on a aeroplane [n]

ALERIONS

ALERION, in heraldry, an eagle displayed without feet or beak, also ALLERION [n]

ALIENORS

ALIENOR, one who transfers property [n]

ANEROIDS

ANEROID, a type of barometer [n]

ANOESTRI

ANOESTRUS, a period of sexual dormancy, also ANESTRUS [n]

ANOINTER

one who anoints (to consecrate with oil) [n -S]

ANORETIC

one affected with loss of appetite [n -S]

ANTERIOR

in front [adj]

ANTIHERO

a principal character who lacks noble qualities [n ANTIHEROES or ANTIHERO]

ARENITES

ARENITE, rock composed of sand grains [n]

AROINTED

AROINT, to frighten away, also AROYNT [v]

ARSENITE

a chemical salt [n -S]

ARSONITE

one who maliciously lights fires, also ARSONIST [n -S]

ASTEROID

a rocky object found in orbits [n -S]

ASTONIED

ASTONY, to amaze or shock, also ASTONISH, ASTONE [v]

ATROPINE

a medicine derived from the deadly nightshade, also ATROPIN, ATROPIA [n -S]

AUNTLIER

AUNTLY, like an aunt [adj]

BARITONE

a deep male voice, also BARYTONE [n -S]

CREATION

something that is created [n -S]

DATURINE

a poison [n -S]

DELATION

the act of delating [n -S]

DERATION

to free from rationing [v -ED, -ING, -S]

DETAINER

the unlawful withholding of another's property [n -S]

DETRAINS

DETRAIN, to alight from a train [v]

DONARIES

DONARY, a thing given to sacred use [n]

DOUANIER

a custom-house officer [n -S]

EARSTONE

a hard mass that forms in the inner ear [n -S]

ELATERIN

a chemical compound [n -S]

ELATIONS

ELATION, a feeling of great joy [n]

ENTAILER

one who entails (to restrict inheritance to a specified line) [n -S]

ENTRAILS

ENTRAIL, to interlace [v]

ERGATOID

worker-like [adj]

ERIONITE

a type of mineral [n -S]

ETAERIOS

ETAERIO, an aggregated fruit like a blackberry [n]

GELATION

the process of gelling [n -S]

GERANIOL

an alcohol used in perfumes [n -S]

GRATINEE

to cook with a crust [v GRATINEED, GRATINEEING, GRATINEES]

IDEATION

the act of ideating [n -S]

IDOLATER

one that worships idols, also IDOLATOR [n -S]

IGNAROES

IGNARO, an ignorant person [n]

INDURATE

to make hard [v INDURATED, INDURATING, INDURATES]

INERTIAE

INERTIA, the tendency of a body to resist acceleration [n]

INORNATE

not ornate [adj]

INSOLATE

to expose to the sun's rays [v INSOLATED, INSOLATING, INSOLATES]

INTERAGE

including people of various ages [adj]

IODINATE

to treat with iodine, also IODATE [v IODINATED, IODINATING, IODINATES]

LARNIEST

LARNEY, of clothes, smart [adj]

LATRINES

LATRINE, a type of toilet [n]

LEGATION

the sending of an official envoy [n -S]

NOTARIES

NOTARY, a public official who can certify documents [n]

NOTARISE

to attest to as a notary, also NOTARIZE [v NOTARISED, NOTARISING, NOTARISES]

OBTAINER

one that obtains [n -S]

ONERIEST

ONERY, stubborn and mean-spirited [adj]

ORDINATE

to ordain [v ORDINATED, ORDINATING, ORDINATES]

ORGANDIE

a cotton fabric, also ORGANDY [n -S]

ORGANISE

to form into an organic whole, also ORGANIZE [v ORGANISED, ORGANISING, ORGANISES]

ORIENTAL

an inhabitant of an eastern country [n -S]

ORIENTED

ORIENT, to acquaint with details of a situation [v]

ORIGANES

ORIGANE, marjoram, also ORIGAN [n]

OUTRAISE

to surpass in raising [v OUTRAISED, OUTRAISING, OUTRAISES]

RANDIEST

RANDY, lustful [adj]

RATIONED

RATION, to distribute in fixed amounts [v]

RATLINES

RATLINE, one of the ropes forming the steps of a ladder on a ship, also RATLIN, RATLING, RATTLIN, RATTLINE [n]

REACTION

the act of reacting [n -S]

REANOINT

to anoint again [v -ED, -ING, -S]

REGIONAL

something that serves as a region [n -S]

REINSTAL

to instal again, also REINSTALL [n -S]

RELATION

an association between people or things [n -S]

REOBTAIN

to obtain again [v -ED, -ING, -S]

RESINATE

to treat with a viscous substance, also RESIN [v RESINATED, RESINATING, RESINATES]

RESONATE

to resound (to make an echoing sound) [v RESONATED, RESONATING, RESONATES]

RETAINED

RETAIN, to keep possession of [v]

RETINALS

RETINAL, a pigment in the retina, also RETINENE [n]

RETINULA

a neural receptor of an arthropod's eye [n -S]

ROSINATE

a resinate [n -S]

RUINATED

RUINATE, to ruin [v]

RUINATES

RUINATE, to ruin [v]

SAUTOIRE

a heraldic design, also SALTIRE, SALTIER, SAUTOIR [n -S]

SEDATION

the reduction of stress by sedatives [n -S]

SENORITA

an unmarried Spanish girl or woman [n -S]

SEROTINE

a European bat [n -S]

SOTERIAL

pertaining to salvation [adj]

STEARINE

the solid portion of a fat, also STEARIN [n -S]

STRAINED

STRAIN, to exert to the utmost [v]

TABORINE

a small drum, also TABORET, TABORIN, TABOURET [n -S]

TAENIOID

like a tapeworm [adj]

TAILERON

a part of a two-piece tailplane [n -S]

TAILORED

TAILOR, to fit with clothes [v]

TAURINES

TAURINE, a chemical compound [n]

TENTORIA

TENTORIUM, a sheet of the dura mater [n]

TENURIAL

pertaining to a tenure [adj]

TOENAILS

TOENAIL, to fasten with obliquely driven nails [v]

TRAINEES

TRAINEE, one who receives training [n]

TREENAIL

a wooden peg used to fasten timber, also TRENAIL, TRUNNEL [n -S]

TRENAILS

TRENAIL, a wooden peg used to fasten timber, also TREENAIL, TRUNNEL [n]

URANITES

URANITE, a mineral [n]

URINATED

URINATE, to discharge urine [v]

URINATES

URINATE, to discharge urine [v]
That's it?
But I was just getting into it ;-(
Well, I've put together loads more word lists and Scrabbly resources for subscribers. It's all free. Just enter your details, click the button, and you'll have your hands on them in a few seconds...
More Word Lists

Visit my Totally Unfair Scrabble Guide